Birthday Honours 2018: Network Rail boss made CBE amid travel chaos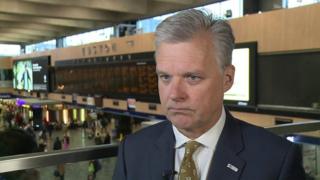 Network Rail has admitted the "timing is difficult" after its outgoing chief executive was included in the Queen's Birthday Honours list amid continued disruption to rail journeys.
Mark Carne has been appointed a CBE for his services to the railway industry.
One trade union leader said it was like "rewarding the captain of the Titanic for jumping ship".
Rail passengers have faced delays and cancellations since a major overhaul of rail timetables took effect on 20 May.
Chairman of Network Rail Sir Peter Hendy said: "Clearly the timing of this award is difficult given current industry issues and their effects on passengers."
But he said over his four-and-a-half years in the role Mr Carne had made a "tremendous contribution" to the UK's railways.
Since he was appointed chief executive in January 2014, Mr Carne, a former oil executive, has overseen a large investment programme, including the rebuilding of London Bridge and Birmingham New Street stations and the upgrading of signalling systems, as well as the Crossrail and Thameslink projects.
Other business people honoured in the Queen's Birthday List include:
Knighthoods (KBE)
James Ratcliffe, the UK's richest man, according to the Sunday Times rich list, and boss of chemicals giant Ineos, for services to business and investment.
Tim Waterstone, founder of the book chain carrying his name, for services to bookselling and charity.
Damehoods (DBE)
Moya Greene, chief executive of Royal Mail, for services to business and the postal sector.
CBE
Thomas Ilube, entrepreneur, for services to technology and philanthropy.
Paul Johnson, director of the Institute for Fiscal Studies, for services to the social sciences and economics.
Jo Malone, founder of fragrance companies Jo Malone and Jo Loves, for services to the British Economy.
MBE
Judy Naake, founder of St Tropez self-tanning products, for services to entrepreneurship, the community and philanthropy
Charlotte Tilbury founder of her eponymous cosmetics brand, for services to the beauty industry.
Keith Tordoff, owner of the Oldest Sweet Shop in England in Pateley Bridge, Yorkshire, for services to the community.
Mr Carne announced in February he would leave Network Rail later this year.
However, the current difficulties in the rail industry adds a touch of controversy to his departure with a Queen's Birthday honour.
Manuel Cortes, general secretary of the Transport Salaried Staffs' Association, said: "Frustrated passengers will see no honour in that at all."
A senior backbench opposition MP has also criticised the decision to include Mr Carne on the list.
Labour's Lisa Nandy told BBC Radio 4's The World Tonight his CBE was "just another kick in the teeth" for rail travellers and should be withdrawn.
She said "there's absolutely no way that the government should press ahead with this award".
Lilian Greenwood, the Labour chair of Parliament's Transport Select Committee, agreed rail users would not be impressed with the honour.
"Passengers will be furious. Their trains aren't arriving on time, if they arrive at all, but this reward for the top boss turns up even before he's left his post," she said.
She said the committee had launched an inquiry to establish who was responsible for the "shambolic" timetable changes but in the meantime "this announcement will add insult to passengers' injury".
Analysis: BBC Transport Correspondent Victoria Fritz
Mark Carne must be used to bad timing. He wasn't a year into the job before he faced a public lambasting for being on holiday when overrunning engineering works ruined the Christmas plans of thousands of passengers.
He presided over the uncomfortable switch Network Rail made from private to public ownership which also exposed him to criticism over his salary – more than five times that of the prime minister.
Furthermore, since the letter of recommendation for a CBE hit the doormat a few months ago, the East Coast Mainline franchise has collapsed and five other train lines have been brought to their knees with timetable changes.
It is to his credit that Mark Carne remains a popular figure within the industry. He has overseen some of the most ambitious and complicated upgrades to infrastructure anywhere in the world. He has championed safety on the railways and diversity in the workforce.
He has made strides to stamp out zero-hours contracts and is often seen on the front line with track staff.
The Department for Transport said that despite the "unfortunate" timing Mr Carne's work in "improving safety and modernising our rail network" deserved recognition.
However, the Secretary of State for Transport, Chris Grayling, has laid some of the blame for recent disruption at Network Rail's door.
Mr Grayling said the organisation had been "very late" in approving the new timetables. He also said the introduction of the electric trains needed to operate the new services had been delayed due to uncompleted infrastructure projects.
Two other Network Rail employees also received honours.
Ian Stevens has been made an OBE for services to suicide prevention, and Scott Heath is awarded the BEM for services to the LGBT community.