Facebook profits rise despite tax hit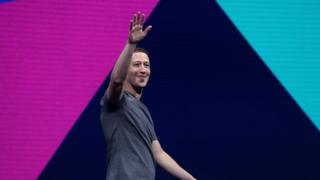 Facebook will pay $2.3bn (£1.6bn) in unexpected taxes as a result of the tax overhaul the US approved last year.
Despite the hit, the firm's quarterly profits increased 20% year-on-year to nearly $4.3bn.
The figures underscored Facebook's strong financial position, in spite of the criticism it has faced over fake news and other issues.
Facebook boss Mark Zuckerberg called 2017 "a strong year … but … also a hard one".
Mr Zuckerberg said the company was making changes that reduce how much time people spend on the social media site, but ensure it is "more meaningful".
He said the tweaks, which include showing fewer viral videos, had already reduced time spent on Facebook by about 5% or roughly 50 million hours a day.
Facebook also said its user growth had cooled slightly from its last update.
The firm reported an average of 1.4 billion daily active users and about 2.13 billion monthly active users in December.
Those figures were 14% higher than in December 2016, but had increased 16% year-on-year in September.
---
Analysis: By Dave Lee, BBC North America technology reporter, San Francisco
There are politicians, academics and even former executives lining up to tell Facebook what's wrong with it, but Mark Zuckerberg has only ever trusted his own data.
And so these tweaks to the News Feed, above all else, are a result of what Facebook's engineers have seen for themselves.
Mr Zuckerberg's (pretty convincing) argument is that by not fixing the News Feed, the long-term health of the company could be in jeopardy – not because of Russian propaganda or fake news, but because it just won't be fun or useful to use.
The 33-year-old is again warning investors that it's going to take time to heal the News Feed, making it a better place for you and for me – and then eventually, he hopes, advertisers and businesses.
What we need to look out for is investors' patience with him. Over the past two years Facebook has consistently beat expectations, and it did again today, even with the caveats. Will Wall Street cut him some slack as a result?
---
"In 2018, we're focused on making sure Facebook isn't just fun to use, but also good for people's well-being and for society," he said in a statement.
"By focusing on meaningful connections, our community and business will be stronger over the long term."
Daniel Ives, an analyst at GBH Insights, said the firm's financial results were "robust" and described Facebook's strategy as 'the right medicine at the right time".
"We believe this strategy will drive higher advertising pricing monetisation trends in the long-term for Facebook and was a move Zuckerberg & Co needed to make," he said.
Pressure
Facebook has been under pressure, as US lawmakers investigate the alleged use of the social media network for propaganda efforts.
Some have also urged the company to withdraw an app aimed at young children.
Mr Zuckerberg has previously pledged that the firm would invest more in security, among other initiatives, warning those moves could impact profitability.
Facebook shares fell by more than 4% in after-hours trade, despite strong growth.
The company reported fourth quarter revenue of nearly $13bn, up 47% from the same period in 2016.
For the year, the firm reported a more than 50% rise in profit to nearly $16bn on revenue of $40.6bn.
Facebook said it expects to pay an effective tax rate of 23% in 2017, slightly higher than last year.
Though the US tax overhaul slashed the corporate rate, it also imposed a one-time mandatory tax on overseas profits.