Amir Khan sorry for deadnaming Caitlyn Jenner on Snapchat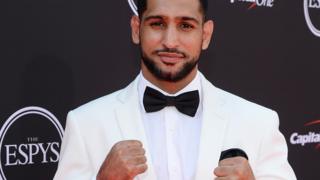 Amir Khan has apologised for mis-labelling Caitlyn Jenner in a Snapchat he posted from the 2018 ESPY Awards.
The boxer was seated next to the former Olympian at the Excellence in Sports Performance Yearly award ceremony.
He shared a photo of the two, using Caitlyn's 'deadname' to caption the photo.
A deadname is the name given by birth to people who have later changed their name and is of special importance to transgender people.
The event took place on 19 July and Amir posted his first apology on Twitter a day later after criticism for his Snapchat post.
Followers of Amir posted transphobic comments under this apology describing Caitlyn as "confused" and calling her "a bloke".
A more detailed apology, explaining how he had also referred to Caitlyn by her former name in person when they met face to face, was posted by US gossip site TMZ.
"I called him Bruce because I'd been watching him from the Olympics. He was a great hero and obviously I'm a fan," said Amir in the video, posted on 22 July.
"Obviously I remember him as Bruce. Me being an Olympian myself, being an Olympic champion myself, when I met him it didn't cross my mind."
"I went over, shook Caitlyn's hand and said 'hey, how's it going Bruce' by accident but didn't mean anything by it.
"He didn't really mind, Caitlyn didn't mind when I called him Bruce."
"There was a lot of respect there. I just don't want people taking it out of context."
Caitlyn legally changed her name from Bruce on 25 September 2015, five months after announcing that she identified as a woman.
Further transphobic comments were made on posts sharing the TMZ video apology.
Follow Newsbeat on Instagram, Facebook and Twitter.
Listen to Newsbeat live at 12:45 and 17:45 every weekday on BBC Radio 1 and 1Xtra – if you miss us you can listen back here.