Jeremy Corbyn: Labour on the threshold of power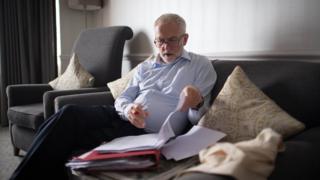 Jeremy Corbyn is to tell supporters Labour is "on the threshold of power" and stands ready for government.
Addressing the party's conference in Brighton, he will say its general election showing has "put the Tories on notice", calling on ministers to "pull themselves together or make way".
He will also accuse the Conservatives of "self-interested Brexit bungling".
Aides said new policies would feature in the speech, in which he will also say business must be more accountable.
After Labour gained 30 seats in June's general election and helped force a hung Parliament, much of the talk in Brighton has been about Mr Corbyn's party preparing for government.
His shadow chancellor, John McDonnell, has described "war games" style planning for different scenarios it could face, including a run on the pound, should it win power at a future election.
Mr Corbyn will attempt to present his party as a government-in-waiting as he closes the conference.
"Against all predictions, in June we won the largest increase in the Labour vote since 1945 and achieved Labour's best vote for a generation," he will say.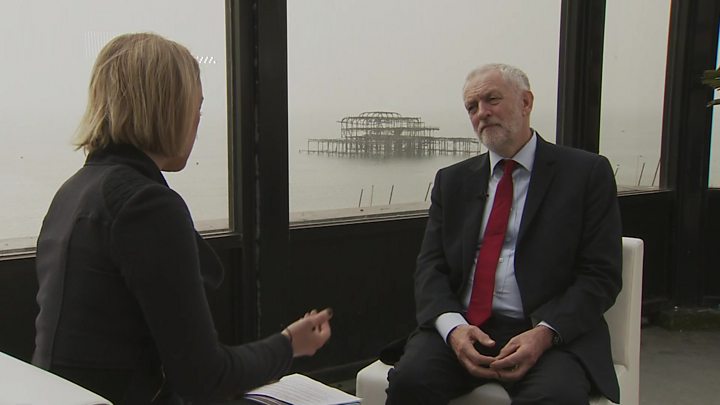 "It's a result which has put the Tories on notice and Labour on the threshold of power.
"Yes, we didn't do quite well enough and we remain in opposition for now. But we have become a government-in-waiting. And our message to the country could not be clearer: Labour is ready."
Mr Corbyn spent the summer touring close-fought seats, and Labour aides said the party was currently selecting candidates in 76 Labour-Tory marginals, who would be in place by the end of the year.
Brexit has been another theme of the conference, with differences between MPs about the relationship with the EU single market Labour should pursue.
'Ill-served'
In what his spokesman billed as a "substantial" section on the UK's departure from the EU, Mr Corbyn will point the finger at divisions in Tory ranks, saying the Conservatives are "more interested in posturing for personal advantage than in getting the best deal for Britain".
"Never has the national interest been so ill-served on such a vital issue. If there were no other reason for the Tories to go, their self-interested Brexit bungling would be reason enough," he will say.
"So I have a simple message to the cabinet: for Britain's sake pull yourself together or make way."
For much of his tenure, Mr Corbyn has faced heavy criticism from his MPs, including a no-confidence vote and a leadership challenge – but on Tuesday he told the BBC his party had united around his economic strategy.
Promising in government to "make public services accountable to communities" and "business accountable to the public", he will also say the challenge of automation must be urgently addressed.
"That is a threat in the hands of the greedy but what an opportunity if it's managed in the interests of society as a whole," he will say.
On Tuesday, Labour members backed changes to the party's rulebook, including a tightening of the rules on anti-Semitism after a debate about the extent it exists within Labour.
In an interview with BBC Newsnight, Unite chief Len McCluskey dismissed claims of an anti-Semitism problem in the party as "mood music that was created by people who were trying to undermine Jeremy Corbyn".