Nobel laureate joins another exclusive club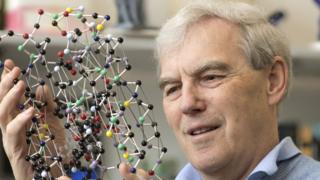 A UK molecular biologist who shared the Nobel Prize in Chemistry in 2017 is to join another elite grouping.
Dr Richard Henderson has been made a Companion of Honour in the Queen's Birthday Honours.
The order is a special award held by only 65 people at any one time.
Dr Henderson, who lives in Cambridge, won the Nobel for helping to develop cryo-electron microscopy – a technique that allows the intricate structures of biological molecules to be imaged.
King George V established the Order of the Companions of Honour in 1917.
It recognises people who have made an extraordinary contribution to British life over a long period.
The molecular biologist will keep company with the likes of author JK Rowling, DNA profiling pioneer Sir Alex Jeffreys, actor Dame Maggie Smith and the BBC TV presenter and naturalist Sir David Attenborough.
Dr Henderson is one of a clutch of high-profile scientists honoured by the Queen on Saturday.
There is a damehood for Angela McLean, an Oxford University professor who is a global leader in modelling the growth of viruses within individuals.
And there are knighthoods for Prof James Hough from Glasgow University; Prof Chris Dobson from Cambridge; and Prof Steven Cowley from Oxford.
James Hough is recognised for his significant contributions to the hunt for gravitational waves. Their first detection in 2015 is regarded as one of the biggest scientific breakthroughs of recent decades.
Chris Dobson is a chemist who studies proteins, the molecules that build and maintain our bodies. He is particularly interested in how they fold and how they become misshapen, which can lead to diseases such as Alzheimer's and Parkinson's.
Steven Cowley is a plasma physicist, who has held a number of top nuclear research posts; he is currently CEO of the United Kingdom Atomic Energy Authority. But his research has also advanced the development of fusion reactors, which seek to deliver energy by squeezing atoms together.