Coronavirus: Maximum lockdown fines rise to £1,920 in Wales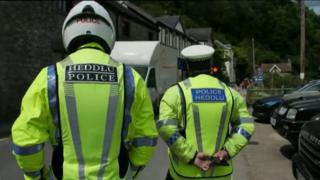 Maximum fines in Wales for breaching lockdown will rise to £1,920, the Welsh Government has confirmed.
First Minister Mark Drakeford has faced calls to raise the penalties to deter breaches.
Initial fixed penalties will stay the same at £60, but will double for each time someone is fined.
But Plaid Cymru police and crime commissioners (PCCs) say calls to match England's higher fines structure – starting at £100 – have been rejected.
Police forces and PCCs have been pushing for tougher penalties, with claims Wales' tougher restrictions are more difficult to enforce when fines are lower than England.
They wanted Wales to adopt England's fine structure, where the first offence recently increased to £100, doubling for each successive offence to a maximum of £3,200.
It is not clear if the 14 day discount will remain in place for first offences. In Wales it has meant someone who settles a fixed penalty notice quickly pays £30.
The Welsh Government said the increased fines were being introduced ahead of the bank holiday weekend.
Mr Drakeford said: "The police have adopted a '4Es' approach to the regulations – they have engaged people, explained what they need to do and encouraged them to comply. But when people haven't responded, they have used their powers to enforce the regulations.
"Fines are a last resort in the enforcement of the regulations which keep us all safe.
"The evidence from the chief constables and police and crime commissioners shows we need a stronger fines structure to deter that small minority of people who persistently fail to keep to the rules."