Grand Canyon crash: Parents' tribute to 'wonderful' sons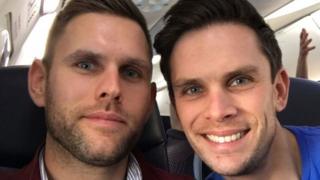 The parents of two British tourists who died in the Grand Canyon helicopter crash have paid tribute to their "wonderful sons".
Becky Dobson, 27, Stuart Hill, 30, and his brother Jason Hill, 32, were on the "holiday of a lifetime" when they were killed.
Three other Britons and the pilot were injured, but were not rescued until eight hours later on Sunday morning.
Safety officials have said the crash investigation will take 18 months.
In a statement released via the Foreign Office, Rev David and Sandra Hill said their sons, from West Sussex, were "inseparable brothers" and "remarkable people" who will be "deeply missed by so many people".
The pair were on holiday with friends celebrating Stuart's 30th birthday.
"We always said they were so close they were like twins and we will find some support in knowing they were with each other to the last," the statement added.
"We will thank God every day for having them in our lives."
They said they were praying for those injured and that their "hearts go out to Becky's family".
Ms Dobson's father, Peter Dobson, told the Press Association his daughter was "full of life" and "always happy".
Britons Ellie Milward, 29, Jonathan Udall, 32, and Jennifer Barham, 39, were injured in the crash, along with pilot Scott Booth, 42, police said.
Crash investigators said they were in contact with the survivors and hoped to secure statements from them during the coming days.
It is not clear what caused the crash on Saturday evening. Witnesses say rescue efforts were hampered by high winds.
"Once the wreckage has been recovered, we will start to gather archive information relating to the pilot, the aircraft and the environment," national transportation safety board investigator Stephen Stein told a press conference in Nevada on Monday.
He said a preliminary report is expected in five to 10 days, but the final report would take 18 months to deliver "because it's a very technical-heavy investigation".
Investigators have to take helicopters into the valley and then hike down to the base of the canyon to access the crash site, Mr Stein told reporters.
The aircraft will soon be moved to a site in Phoenix for further examination.
Mr Stein said the "crash-resistant fuel system" is a very important part of this investigation.
He said there was "evidence of post-crash fire" and images have shown the aircraft engulfed in flames.
A temporary flight restriction in the area remains in place.