Local lockdown in Aberdeen extended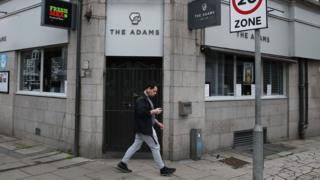 A local lockdown in Aberdeen will be extended for another week, First Minister Nicola Sturgeon has announced.
The restrictions were imposed two weeks ago after a spike in Covid-19 cases in the city.
Pubs and restaurants were shut and restrictions were placed on travel and visits to other households.
Ms Sturgeon said the lockdown was having an impact – but that it was "not yet safe" to lift the restrictions.
She said it was hoped restrictions could start to be eased next Wednesday for some lower-risk businesses, such as non-licensed cafes.
A midweek review will be carried out on Sunday.
However, Aberdeen City Council said it did not support the continuation of the lockdown.
Ms Sturgeon said 15 of the 50 new cases in Scotland on Wednesday were in the Grampian area.
There have now been 398 cases since 26 July in Grampian, 226 of which have been associated with the Aberdeen cluster.
"We are not yet in a position to say that this outbreak is over or completely under control," said Ms Sturgeon.
She said there was some evidence that the original cluster, linked with bars and nightlife in the city, was being contained.
'Hard-won progress'
"However, we are also continuing to see a number of individual cases and other smaller clusters in the city," she said.
"That is not necessarily unusual for an outbreak of this scale, but it is something we must monitor very carefully because these cases don't appear to be linked to the original outbreak."
The first minister accepted that the news the restrictions in Aberdeen would remain would be disappointing.
But she added: "Moving too quickly with transmission levels as they remain just now would, in our view, risk the hard-won progress that people in Aberdeen have made."
A £1m support fund has been set up for Aberdeen, with grants of up to £1,500 available for hospitality businesses.
The current restrictions, which apply to 228,000 people in Aberdeen, are:
bars, cafes, restaurants and pubs are closed
no travel more than five miles for leisure or holidays
no travel to the city for leisure or to visit friends and family, even if you live in Aberdeenshire
no indoor visits with other households
visiting suspended for most hospitals