Matilda statue sizes up to Donald Trump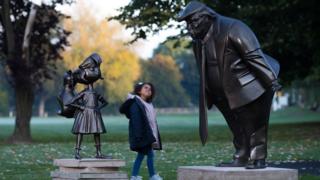 Children's character Matilda has been portrayed as a statue sizing up to US president Donald Trump to celebrate the book's 30th anniversary.
The figures at the Roald Dahl Museum in Buckinghamshire were created as part of a "reimagining" of the schoolgirl, three decades on.
Trump was the public's top choice for the heroine's modern-day nemesis, the Roald Dahl Story Company said.
Matilda stood up to headmistress Miss Trunchbull in the 1988 book.
The temporary statues at Great Missenden, where Dahl lived for 36 years, are positioned in fields opposite the town's library.
The building was the inspiration for Mrs Phelps' library, where Matilda devours classic literature by the age of four and three months.
Bernie Hall, from The Roald Dahl Story Company, said: "Matilda demonstrates that it's possible for anyone, no matter how small and powerless they feel, to defeat the Trunchbulls in their own lives – a message that feels even more relevant today than it did 30 years ago."
As part of the celebrations, Sir Quentin Blake has drawn eight images of Matilda Wormwood aged in her 30s.
Roald Dahl, who also wrote The BFG, Charlie and the Chocolate Factory and James and the Giant Peach, died in 1990, aged 74.
Trump topped a public poll about what Matilda's life would be like now, including who she would be standing up to, with Prime Minister Theresa May coming second and TV presenter Piers Morgan in third.
More than half of those that voted said that she would also remain best friends with fellow student Lavender, while fans thought Bruce Bogtrotter – who devoured a whole cake in the book – would now be a Great British Bake Off contestant.