Met Police officers to be quizzed over spit hoods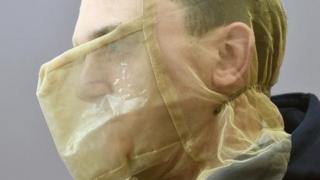 Met Police officers are to be quizzed about whether they should have a spit guard at their disposal.
Commissioner Cressida Dick has previously said front-line officers would not be given the mesh guards.
Members of the Met Police Federation (MPF) will also be asked if they have been spat at or bitten on duty in the past two years as part of the survey.
Chairman Ken Marsh said the survey was being conducted to provide evidence for Ms Dick.
Civil liberties groups have called the mesh hoods placed over suspects' heads "dangerous and degrading".
In the capital, British Transport Police are currently permitted to use spit guards during arrests while the Met has used hoods in all custody suites during an extended pilot scheme.
Mr Marsh said Ms Dick had "stated publicly that in the last 18 months, neither her or her senior officers have been asked by an operational officer for spit guards.
"Well, that's not what they have been telling us… officers are being spat at far too often."
The Home Secretary Sajid Javid backed the use of spit hoods during his first speech to the Police Federation in May.
However, Mayor of London Sadiq Khan has said their use would not be permitted on the front line in the capital.
Met Police Deputy Assistant Commissioner Matt Twist recently said the force "continue to monitor the use of spit and bite guards in the Met and are working with the Met Federation about encouraging police officers to report when they are spat at."