RMT announces fresh Tube strike on Central line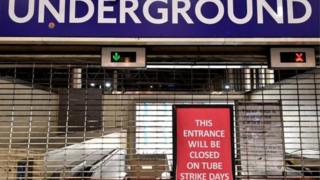 Tube drivers on the Central line are to stage a 15-hour strike over the "displacement" of staff.
Members of the Rail, Maritime and Transport Workers Union (RMT) will walk out at 21:00 on 21 February.
Drivers on the Central and Waterloo & City lines went on strike in January in the same dispute.
The union claims drivers are being "shunted around" the network but London Underground (LU) said they had to be placed where they were needed.
Mick Cash, RMT general secretary, said: "RMT negotiators have made strenuous efforts through the Acas [conciliation service] machinery to resolve this dispute but the door has been slammed in our faces.
"To up the ante, LU have now written to us confirming that they will be bulldozing through the displacements regardless.
"Let us be in no doubt, if LU are allowed to get away with this move on the Central line they will start shunting drivers around at the drop of a hat regardless of the consequences."
Previously LU has said the dispute has centred on the need to move eight train operators into a new depot.
Steve Griffiths, London Underground's chief operating officer, said the drivers have been asked "to move to another line where they would make a real difference to the service our customers receive".