China: Car rams into Hunan square killing three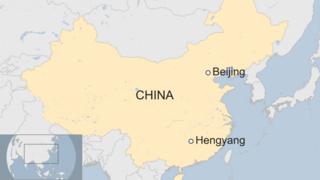 A man has driven a car into a busy square in southern China, killing at least three people and injuring 43, local government officials say.
The car drove into the square in Hengyang city, Hunan province, at 19:40 local time (12:40 BST). Local media say that some victims appeared to have been stabbed.
The driver, who has a criminal record, has been detained, officials say.
Officials have not said whether the incident is terror related.
Video footage from the scene on Chinese media shows people running out of a packed square.
Others kneel down to help or carry the injured away, as bodies lie on the ground.