Shia mosque attacked in Afghan capital, Kabul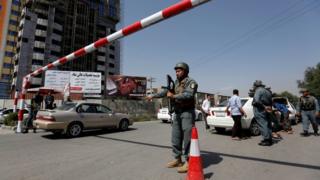 Gunmen have attacked a Shia Muslim mosque in the Afghan capital, Kabul, in what officials say is an ongoing attack.
Worshippers had gathered for Friday prayers when a suicide bomber blew himself up outside the mosque. Other attackers then entered it.
One eyewitness told the BBC the gunmen had taken some worshippers hostage.
A health ministry spokesperson said two people had been killed and eight injured in the attack so far.
Special forces have now been deployed to the area.
The interior ministry confirmed that a "terrorist attack" had taken place.
No-one has yet said they are behind the attack, but Islamic State militants have attacked Shia Muslim targets in Afghanistan in the past.
Last month, dozens of people were killed when a car bomb struck a bus carrying government employees in the capital. The Taliban said they were behind that attack.