Trèbes attack: French left-winger arrested over tweet hailing gendarme's death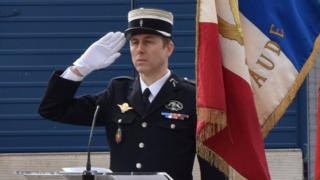 A former French left-wing parliamentary candidate has been arrested over his tweets about a policeman killed during a jihadist siege in southern France last week.
Stéphane Poussier appeared to celebrate the death of Lt-Col Arnaud Beltrame, saying it was great.
He added that the death in the town of Trèbes meant one less voter for President Emmanuel Macron.
French media say he could be charged with apologising for terrorism.
Mr Poussier's Twitter account has since been deleted. It is unclear if this action was taken by him or the platform, after the tweets caused an outcry and were reported by other social media users.
The ex-candidate said the death made him think of a friend, activist Remi Fraisse, who died after police threw a concussion grenade during protests in 2014.
Col Beltrame, 44, died after being shot when a jihadist stormed a supermarket in Trèbes on Friday.
He has been hailed as a national hero after trading places with one of the hostages.
He will be honoured in a national memorial in Paris in the coming days.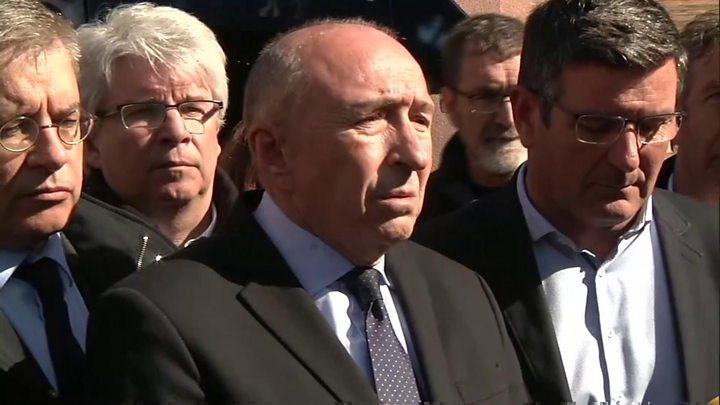 Friday's attack – which killed four people – was the worst jihadist attack under Emmanuel Macron's presidency.
The maximum penalty for apology for terrorist acts is seven years in prison and a fine of €100,000 (£90,000; $120,000), according to Le Monde newspaper.
Stéphane Poussier stood as a candidate for La France Insoumise (France Unbowed), the far-left party led by Jean-Luc Mélenchon, during legislative elections in 2017.
The party has expelled Mr Poussier, calling his tweets "shameful and abject".
Mr Mélenchon also tweeted to condemn the "disgusting" remarks and to praise Col Beltrame for giving his life for the service of others.